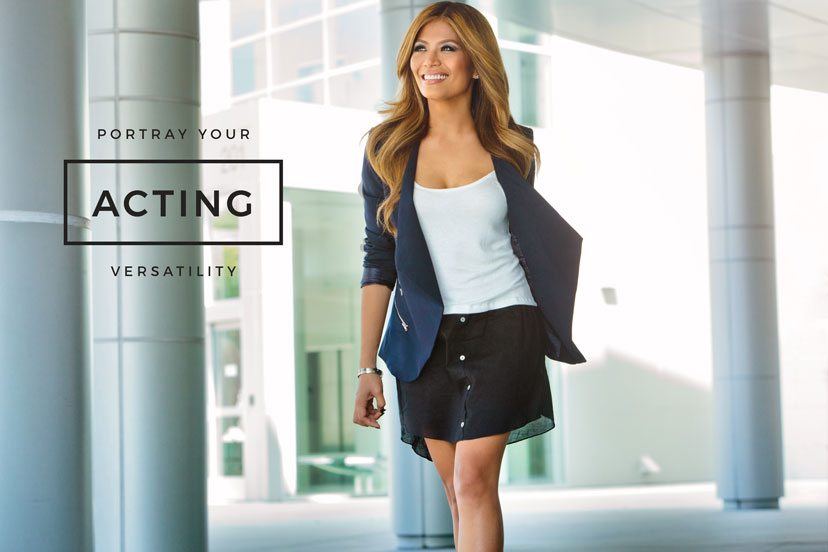 Acting
Here's a fun question: as an actor, you rely on your whole body, voice, movement and presence to bring characters alive. So how can casting directors really appreciate your talent with a flat, unmoving photograph?
This is a question every acting portfolio headshot photographer and every actor wrestles with. Your headshots are usually the first impression you make on casting professionals, and they can decide whether you get the audition or not. Working with one of the great LA photographers for headshots in acting and modeling can only help your cause, right?
How I Solve the Actor, Headshot and Photographer Riddle
Michael Roud Photography is unique because the way I take acting headshots in Los Angeles is unique. I work with actors the way a director does. We spend some time setting a scene and getting you comfortable so you can do what you do best: act out a scene. I help you create a story and character and use the camera to capture that. Casting directors can then see the story in your eyes and witness you in mid-movement, helping them imagine how you might perform in-character.
There are many actor headshot photographers in Los Angeles, but keep in mind that some are thinking in only two dimensions. By thinking as a director, I'm one of the few actor headshot photographers in Los Angeles that's poised to capture more for your portfolio. I capture you as an actor or actress first, not as a model in a still shot. Having worked with some of the top management companies in the country, I know this is what they're looking for.
Are You Looking for an LA Acting Headshot Photographer?
Michael Roud Photography shoots actor headshots, including:
Commercial headshots. These can be used for commercials and commercial print.
Character headshots. These bring out your marketability and can show how you look in-character. Character headshots can capture you as a high schooler, nerd, frat college guy or athlete, for example.
Soft theatrical headshots. We invented this term to describe less serious and intense shots, which are perfect for TV, where casting directors are looking for someone who can connect with the audience.
Theatrical headshots. These show that you're unique and marketable. Usually, they show off your intensity and deep eyes.
At Michael Roud Photography, we have the perfect backgrounds for all of these, so we can complement the pictures without taking away from the eyes or your look. We also use the environment surrounding the city to get the perfect backdrop to help casting directors really picture you in a role. By using specific, character-driven headshots instead of generic headshots, we get to hammer home how marketable you are in specific roles. We let your hard work on your craft shine through.
We work with WME, CAA, Paradigm, Gersh, Abrams, 90210 Talent, Untitled Management and other top management companies and talent agencies, so we understand what casting directors look for. If you're ready to work with a headshots photographer who's the preferred photographer of CBS studios and is the photographer of choice for the top stars at Nickelodeon, contact Michael Roud Photography to set up your headshot photoshoot.