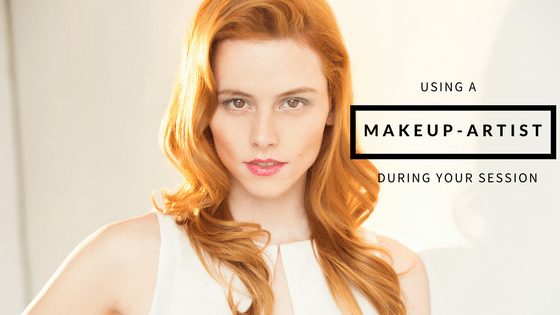 Here at MRP, our clients call in with inquiries on a daily basis. Whether they're a model or an actor, they all tend to ask the same questions right before their session with the most common question always being "Should I have a makeup artist for my headshots?"
You might be the most beautiful person in the world, or you may have even watched a million Jeffery Star makeup tutorials with your cat, but on-camera makeup is more of a science than most people realize. Between changes in lighting, the calibration of the camera, and the amount of fine detailing a camera can pick up on, using a professionally trained makeup artist is a key component in getting shots that you love. To break this science down for you further, here are our top three reasons behind having a professional makeup artist at all your photoshoots.
Even Out Skin Tone
While, to the naked eye, your skin might be absolutely flawless, a professional camera will pick up on even the tiniest of blemishes and bits of skin discoloration. Additionally, studio lighting may change the color of your foundation making it appear to be the wrong color for your skin tone.
For this very reason, it is crucial to not only wear foundation, but to work with someone who understands how to apply makeup that will read well on camera and work with the lighting being used. Professional make-up artists are trained to understand the science behind using makeup to color correct for the camera and thus they will ensure that your final photos look like the best version of you and not some, orange, splotchy creature from Stranger Things.
Put Emphasis on Your Eyes
As I'm sure you've heard before, your eyes are the direct window to your soul. When a film actor has been known to "read well" on camera, typically it relates back to their eyes telling stories that spread a powerful message beyond any words.
Achieving a headshot that stands out from the rest means achieving this same goal with your eyes in your photo. However, lighting and other conditions can wash you out on camera, making your eyes look dull and lifeless. Whether you're male or female, a makeup artist will understand how to apply eye makeup that will allow your eyes to pop without looking over done.
Adding Dimension
When casting directors see your headshot, not only do they want to see the best version of you, but the best example of what you'll look like on screen. With a photo only being two dimensional and the chance that lighting could wash out your most distinguishable features, it is important to have a makeup artist to contour your face.
Now, when I say contour, I don't mean an extreme Kardashian-like version of yourself. A professional make-up artist will give you the best, three dimensional, cinematic version of you and allow your photos to stand out from the crowd.
Can we agree that the answer to your question — "Should I have a makeup artist for my LA headshots?" — is a resounding yes? OK, fantastic! Now, who's going to do your makeup? That's a challenge, as demonstrated by the Kardashians.
We've got some tips for choosing a makeup artist for your headshot, though, so check them out:
Review Their Portfolio
Casting directors make their decisions based on photos all the time, so why shouldn't you? When it comes to makeup artists, it makes sense. In today's online world, almost every makeup artist maintains a website with a portfolio.
Browse their work. See if they have experience with headshots, which require a more natural look. If you don't think their clients look fantastic or the photos are retouched more than a senior photo from the '80s, then pass on that artist and find another. In LA, you have tons of options, so swipe left if you aren't impressed.
Meet up for a Makeup Trial
Swiped right on a few makeup artists in your area? Great, let's take it to the next level. Set up a time to meet with your potential makeup artist to discuss your desires for the shoot. An excellent tip for choosing a makeup artist for your LA headshot is to bring in a photo of you with makeup. It gives the artist an idea of what you like.
Now, you have two choices. You can do a screen test, or you can wait until the day of your shoot. A makeup trial is a wise choice if you're worried about having a makeup mishap, like Angelina Jolie or even Jon Hamm. If you're confident in your artist, though, plenty of actors and models meet their makeup artist on the day of the shoot.
Ask Your Photographer for Recommendations
What if you're still out a makeup artist after scouring the Internet? As Mrs. Doubtfire once said, "Help is on the way, dear!" Who's your Mrs. Doubtfire? Your photographer, the master — or mistress — of headshots. They've worked with makeup artists for years and most likely have a valuable little black book in their possession.
Ask them what makeup artists they recommend and then look those individuals up. Follow the above tips for choosing a makeup artist for your LA headshot, and you should be more than ready for your day in front of the camera.
You, your makeup and wardrobe are only one part of your headshot. The other half is your Mrs. Doubtfire, or your photographer. When you choose a skilled photographer and makeup artist and pair them with your distinct look, you're guaranteeing yourself a headshot that will have you booking jobs across LA, New York and more.
Contact us to learn more about our headshots, as well as our team of hair and makeup artists who are trained in on-camera makeup and are some of the leading artists in the entertainment industry. That's why they're a part of the Michael Roud Photography team.